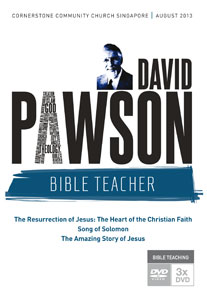 Three DVDs from Cornerstone Community Church - Singapore
| | |
| --- | --- |
| Author | |
| Availability | In Stock |
| Product Code | DVD.235-7 |
| Postage Points | 2 |
| Length | 3 DVDS |
The Resurrection -The heart of Christianity
Considering the sequence, evidence, significance, essence, consequence and experience of this unique event, it is concluded that Christianity stands or falls on its reality. Happening on the 'eighth day', it marks the beginning of the new creation from the believer's body to the whole universe.
Song of Solomon
This most romantic book in the Bible is not an allegory full of coded meanings, but an analogy of the relationship between Believers and the King of Kings, which is intensely personal, but never private. Having fallen in love with Him we must be ready to reign with Him.
The Amazing story of Jesus
No-one else has ever been conceived, born, killed, and raised from the dead, taken up to heaven and promised to return as Jesus did. But his painful and premature death was primarily due to what he 'said', especially about himself, rather than what he 'was' or 'did'.